Why Best Particle Therapy?
The ion Rapid Cycling Medical Synchrotron (iRCMS) being developed is a state-of-the-art synchrotron designed for future cancer therapy facilities. Amongst its contemplated breaking-edge features are:
the optimized delivery of a variety of clinical or pre-clinical beams, including protons and other ions that are heavier than protons (such as carbon ions with a maximum energy of 400MeV/u)

the accelerator is optimized to cycle with a frequency of 15 Hz, to the top energy required to deliver treatment at a maximum depth of approximately 27 centimeters

the combination of advanced spot scanning with rapid energy modulation, eliminating the contamination associated with patient specific hardware

extremely small beam emittances and sizes are naturally associated with rapid cycling, facilitating beam delivery with unprecedented precision

the advanced beam delivery requires less shielding, allowing it to be placed in a standard room without excessive reinforcement, saving on shielding costs
The contemplated racetrack lattice design includes:
zero dispersion parallel straight sections which are ideal for injection, extraction, and RF systems

straight sections separated by arcs that each contain girders of combined function magnets

the injection and extraction is highly efficient, using a linac to inject carbon ions and protons
Best Particle Therapy also offers a plan for an ideal radiation oncology facility.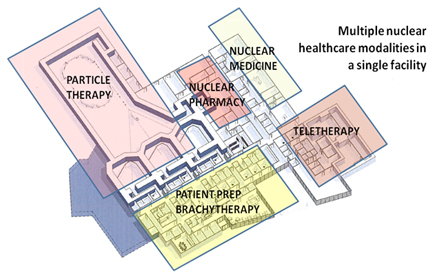 Above is a conceptual design for a complete radiation oncology facility. In the design of this layout, we have taken into consideration the cost of facility construction and operation, patient convenience, dosage and treatment planning, relationships to critical structures, as well as radiobiological considerations, therapeutic gain for specific histologies, and physical beam characteristics.
By having multiple nuclear healthcare modalities in a single facility, patients will be able to receive the best radiation oncology healthcare treatments in an efficient and cost-effective manner.